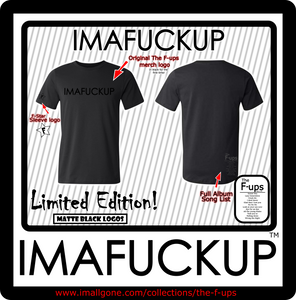 Limited Edition! 
The original "The F-ups" merch design from 2004, with an all new Matte Black logo!  
There are only a few of these made. We won't ever make them exactly like this ever again.
Featuring our IMAFUCKUP™ logo on the front, the full track list from The F-ups "Screw You" debut album on the side, and an "F-star on the sleeve.
100% Soft Cotton - Unisex/Men's size - Made in USA 
Printed on a GONE Classic USA made Tee, with the GONE woven tag sewn in to the front! (not pictured)
Please allow 2 weeks delivery time.  These are made when ordered. 
email: i.gone.band@gmail.com   with any questions